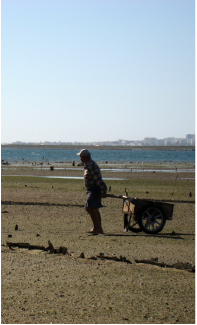 FORWARD project
FORWARD used an integrated framework for interpreting coastal zone structure and dynamics, in areas where communities primarily depend on marine resources.
This framework accounts for watershed interactions, ecological structure and human activities. Our interdisciplinary approach combines natural and social sciences, and addresses the complex scaling issues inherent in integrated management.
This work had the following objectives:
Establish functional models at the Ria Formosa scale, describing key environmental variables and processes, aquaculture activities and their interactions;
Examine the effects of overexploitation on key ecological variables;
Examine bay-scale environmental effects of different culture strategies.